---
Spanish Alphabet Pronunciation
The Spanish alphabet is a variation of the Latin alphabet, it has one additional letter, the eñe "ñ", for a total of 27 letters. The lessons below will first teach you the "name" of each letter of the Spanish alphabet.Then you will learn how to pronounce the letters of the Spanish alphabet when they are used to form Spanish words. Spanish letters may have a different sound depending upon their location in the Spanish word.
Spanish is a Romance language and it is closely related to Italian and Portuguese. Spanish is a major language, with up to 400 million native speakers in Spain, Latin America and the USA. With so many Spaish speakers living in the USA, one should at least learn to say hello in Spanish!
Spanish uses the Latin alphabet, with the addition of the letter ñ. Spanish vowels can take an acute accent. Spanish alphabet pronunciation may be problematic. Beginning Spanish students often confuse the Spanish and English vowels a, e, i. The Spanish and English consonants h, j, r, y will also cause trouble, due to the fact that they have very different names in Spanish. To asses your current level of knowledge, you should take our online Spanish test.
English speaking students who study Spanish will usually have problems with Spanish punctuation. They will inevitably leave off the punctuation at the beginning of the sentence. It must be remembered that questions or exclamations are punctuated as follows: ¿What is your name? or ¡What a goal! Punctuation of direct speech may also be a problem for English speaking students because quotation marks are NOT used in Spanish.
Spanish alphabet pronunciation can be difficult. The vowel sounds and sentence stress used in Spanish is significantly different from that of English. These differences are serious challenges to study who study Spanish. English has 12 pure vowel sounds and 8 diphthongs and the length of the vowel sound plays an important role. This contrasts with Spanish which has 5 pure vowels and 5 diphthongs. The length of the Spanish vowel sound is not significant in distinguishing between Spanish words. Of course, the easiest way to improve your Spanish alphabet pronunciation is to play a few of our 1,000 Spanish alphabet games!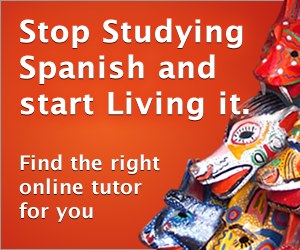 ---