---
Spanish Word of the Day

[ subscribe ] |

[ receive by email ]


el envés
English Translation
: reverse side, back side, wrong side (of something)
Spanish Example: La araña roja se instala en el envés de la hoja alimentándose del jugo celular.

English Translation: The red spider plants itself on the back side of the leave to feed itself the cellular liquid.
---
Add the Spanish Word of the Day to your website!
To display this same word of the day on your webpage, simply copy and paste the code below in its entirety into the HTML of your webpage.

---
If you have a Google homepage, you can
add the Word of the Day gadget
, or you can
add it to any webpage
.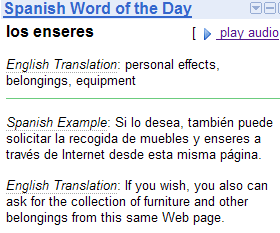 [
add to Google Homepage
] | [
add to webpage
]
---