---
Frequently Asked Questions / FAQ
What is the teaching philosophy of 123TeachMe?
The world we live in is integrated and cross-disciplinary. When one is learning a language, the brain searches for patterns and connections in order to build meaning. A language course compartmentalized into separate content areas does NOT provide meaningful patterns and connections. However, an integrated, balanced curriculum promotes this type of brain growth and development. The National Association of State Boards of Education proclaims that "the balanced, integrated curriculum is based on best knowledge" of how we all learn. The innovative teaching methods developed by 123TeachMe are based on best knowledge of language acquisition.
Who created 123TeachMe?
123TeachMe is created in the USA by Jaipur Internet LLC. Although we live and work in the USA, our hearts are still in our home towns. These towns include: Granada, Buenos Aires, Monterrey, Quito, San José, Cádiz, Lima, Valladolid, Guatemala City and others.
May I use the resources of 123TeachMe in my classroom?
Our vast resources have captured the attention of teachers around the world. Each week, these teachers tell us how they are using 123TeachMe in their classrooms. We are very happy to be part of the education revolution which is occurring in schools!
123TeachMe has been featured in education documentaries in the USA and the United Kingdom. It is the largest website in the world for learning Spanish, providing over 500 FREE Spanish lessons, 3,000 quizzes, hundreds of games, over 7,000 pages of content, and over 90,000 audio files to help students learn Spanish quickly and painlessly.
You will not find more resources for learning Spanish anywhere, regardless of how much you pay - and 123TeachMe is 100% FREE.
Do you teach the Spanish used in Spain or the Spanish used in Mexico and South America?
Only 10% of Spanish speakers live in Spain and Spanish is NOT homogeneous - there are tremendous regional differences. The majority of our resources feature a neutral, standard Spanish which may be understood by all educated Spanish speakers.
In addition to teaching standard Spanish, we also teach regional vocabulary and expressions. This allows the user to more fully appreciate the richness and diversity of Spanish cultures found all over the world. Let's consider for a moment the ubiquitous urban bus. In Spain, a bus is usually referred to as autobús or autocar. In Argentina, it is commonly called a colectivo, in Perú it is known as ómnibus, while in Colombia and Venezuela, a common term is buseta. You will hear the term micro in Uruguay, in Chile and Mexico, one says camión. In Bolivia, it is common to hear the term, flota, while in Cuba, Puerto Rico and the Dominican Republic, the term guagua is used. In the Dominican Republic tap-tap is used to refer to mico-buses. Of course, every educated Spanish speaker knows that autobús means "bus".
I need to learn basic Spanish. Where do I begin?
You should first take our Spanish Placement Test.
If you place in the beginning level then you should start with Spanish 101.
If you place in the intermediate level in at least two areas, then you can go directly to the Conversational Spanish course.
How can I contact 123TeachMe?
Please contact us through our contact form.
User Feedback: December 5, 2013
"...just wanted to thank you for doing such a great job! I met my future Panamanian wife 3 years ago and at that time Spanish looked like a serious obstacle for me. Now I am a fluent speaker and have no problems understanding the language... I don't believe in expensive courses, I believe the key to success is self education and thanks to your webpage it has become very easy."
User Feedback: October 14, 2013
"This website and those responsible for putting it together and maintaining it are incredible. I've been able to teach myself Spanish from this site and a few supplementary readings.... Thanks so much for providing this, you have no idea how much this helps me personally and professionally."
User Feedback: September 15, 2013
"This site is .......(getting my breath) the greatest site or any kind of media that I have ever seen. It is constructed very well and easy to operate. My sombrero is of to all who is/was involved with the creation of this site. :)"
Should I buy CDs that will teach me Spanish in a few weeks?
It is not possible to learn any language in a few weeks. 123TeachMe provides all the tools you need to begin speaking Spanish today. How quickly you progress depends upon your current level of knowledge and your commitment to learn. Best of all, 123TeachMe is absolutely free!
Can I speak Spanish without learning any grammar?
You can speak any language without learning grammar - this is proven whenever you visit a fast-food restaurant. We understand that every student has different interests and needs. We allow the student to decide if they want to learn a little grammar or a lot of grammar. Just remember, learning a little grammar will make language acquisition much faster and less painful!
How quickly will I be able to speak Spanish?
This depends on your commitment and eagerness to learn Spanish. 123Teachme gives you the tools you need to speak Spanish the first day. If you devote yourself, you'll have a much greater command of the language after only a few months of study.
When I click on the sound icon, nothing happens. How can I hear the sounds on your website?
Audio is an essential part of learning any language. This why 123TeachMe provides over 90,000 audio files throughout the website. It is critical that you resolve any problems you have related to the audio files. First, click on this icon ->

to see if you hear anything. The problem could just be that the sound file was missing on a particular page. Did you hear the sound when you clicked on the icon? If so, then everything is working as it should be. If not, then the problem lies elsewhere. Most of the sounds on the website are stored in MP3 format, so make certain that you have software installed that is capable of playing MP3 files and make sure that software is setup to play them by default. Next, make sure that you have Javascript and Flash enabled in your web browser as these are used as well.
How Does 123TeachMe earn money?
123TeachMe shows ads provided by Google. These ads allow us to pay the professionals who work every day to improve the learning experience. No one has ever profited from this website. It is not our objective to earn money, our objective is to help people speak Spanish.
How do you determine the language school ratings?
We don't. Each Spanish school is rated by the students who have attended the school. Students submit comments and evaluations of each school they have attended. Sometimes the overall ratings will NOT match-up with the most recent student ratings. This is due to the fact that the overall rating is an average of ALL the individual ratings of students over several years while space limitations only allow us to show the most recent ratings and comments from students.
We hope to hear from you and receive your evaluation of the school you attend.
Visit our homepage to learn Spanish quickly!
References
Cuthrell, K., & Yates, P. (2007). Making it all fit: Integration strategies for social studies and literacy. 22-39.
Jones, R., & Thomas, T. (2006). Leave no discipline behind. The Reading Teacher , 60 (1), 58-64.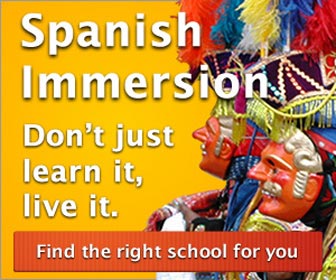 ---