---
Spanish Word of the Day: 2012-1-28

[ subscribe ] |

[ receive by email ]


la miga
English Translation
: bread crumb, the part of the bread that isn\'t the crust, the interior substance of physical things, moral fiber, baby food
Spanish Example: Mezclar en un bol la carne vacuna con la de cerdo, el ají, el orégano, la sal y la miga de pan.

English Translation: Mix in a bowl the beef with the pork, chili pepper, oregano, salt and bread crumbs.
---
Add the Spanish Word of the Day to your website!
To display this same word of the day on your webpage, simply copy and paste the code below in its entirety into the HTML of your webpage.

---
If you have a Google homepage, you can
add the Word of the Day gadget
, or you can
add it to any webpage
.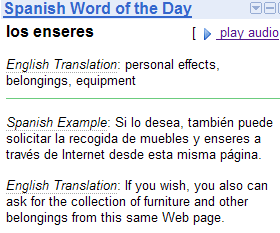 [
add to Google Homepage
] | [
add to webpage
]
---