---
Children dialogue in Spanish!
Spanish for Kids Spanish Conversations for Children!
Spanish dialogues for children is a series of brief dialogues which feature native Spanish speakers of from Latin America and Spain. The purpose of producing these dialogues was to provide students studying Spanish with everything they need to be able to talk about the same topics in Spanish. Our Spanish dialogues for children contain several major components. First, there is a simplified dialogue. This simplified dialogue is scripted, the native speakers talk slower, and he or she uses simpler words and little slang. Second, there are Spanish dialogues for children which are not scripted. What the native speakers say is what they really said. Some may talk fast, others talk slow, and some have specific regional dialects.
Third, to help perform the same task, we provide a Spanish/English glossary of vocabulary words that students may need in order to talk about the topic. Fourth, we also provide sample sentences that one may want to use in order to talk about the topic. Finally, we offer a brief, mini-grammar explanation on some grammar principle that is related to the proficiency topic. After reviewing the simplfied version, the vocabulary, the phrases, the grammar, and the video clips of the native speakers, we believe that students will be more prepared to perform the same proficiency tasks.
The gray menu bar at the top of each page contains proficiency topics, divided by level of dificulty: Beginning, Intermediate, Advanced, Superior. Click on any of these levels to see a list of topics. Then click on any of the specific topics to see the video clips, vocabulary lists, phrases lists, and mini-grammar explanations.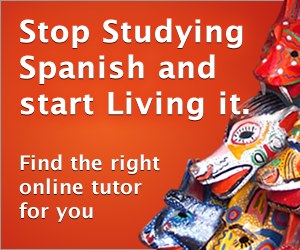 ---