---
Spanish Word of the Day: 2012-2-5

[ subscribe ] |

[ receive by email ]


el sonambulismo
English Translation
: sleepwalking, somnambulism
Spanish Example: Por lo general, los episodios del sonambulismo son aislados, aunque pueden tener un carácter recidivante en el 1 al 6% de los pacientes.

English Translation: In general, episodes of sleepwalking are isolated, although they can have a repeating character in 1 to 6 percent of patients.
---
Add the Spanish Word of the Day to your website!
To display this same word of the day on your webpage, simply copy and paste the code below in its entirety into the HTML of your webpage.

---
If you have a Google homepage, you can
add the Word of the Day gadget
, or you can
add it to any webpage
.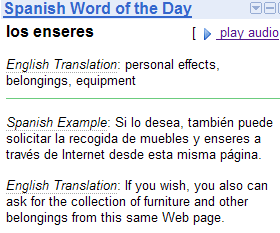 [
add to Google Homepage
] | [
add to webpage
]
---