---
Spanish Word of the Day: 2012-2-3

[ subscribe ] |

[ receive by email ]


el faro
English Translation
: lighthouse, car headlight, someone or something that sheds light on a subject
Spanish Example: Desde el faro de Punta Nariga, y con buen calzado y un poco de espíritu aventurero, podemos bajar por las rocas hasta llegar al punto donde se ven romper las olas.

English Translation: From the Nariga Point lighthouse, and with good shoes and a little bit of an adventurous spirit, we can drop down through the rocks until we get to the place where you can see the waves breaking.
---
Add the Spanish Word of the Day to your website!
To display this same word of the day on your webpage, simply copy and paste the code below in its entirety into the HTML of your webpage.

---
If you have a Google homepage, you can
add the Word of the Day gadget
, or you can
add it to any webpage
.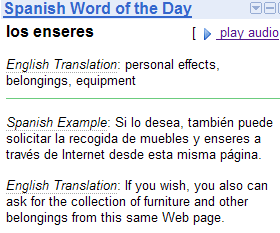 [
add to Google Homepage
] | [
add to webpage
]
---