---
Spanish Word of the Day: 2012-1-20

[ subscribe ] |

[ receive by email ]


obstaculizar
English Translation
: to hinder, to obstruct, to stand in the way of, to place an obstacle in front of
Spanish Example: Todo ello, por supuesto, obstaculizaba el desarrollo del diálogo entre el Vaticano y la Iglesia Ortodoxa de Rusia.

English Translation: Above all, of course, it hindered the development of dialogue between the Vatican and the Russian Orthodox Church.
---
Add the Spanish Word of the Day to your website!
To display this same word of the day on your webpage, simply copy and paste the code below in its entirety into the HTML of your webpage.

---
If you have a Google homepage, you can
add the Word of the Day gadget
, or you can
add it to any webpage
.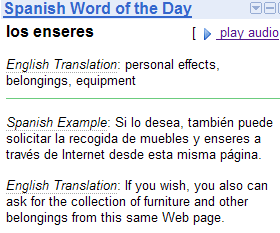 [
add to Google Homepage
] | [
add to webpage
]
---