---
Spanish Word of the Day: 2012-1-13

[ subscribe ] |

[ receive by email ]


suplantar
English Translation
: to supplant, to take the place of
Spanish Example: El piano suplantó gradualmente al violín como instrumento solista preferido.

English Translation: The piano gradually took the place of the violin as the instrument preferred by soloists.
---
Add the Spanish Word of the Day to your website!
To display this same word of the day on your webpage, simply copy and paste the code below in its entirety into the HTML of your webpage.

---
If you have a Google homepage, you can
add the Word of the Day gadget
, or you can
add it to any webpage
.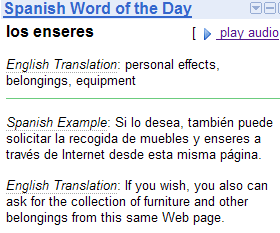 [
add to Google Homepage
] | [
add to webpage
]
---