---
Dialogues in Spanish - Beginner
Dialogues - Novice - High Level Next Lesson

Daniel y Victoria en un cementerio en Buenos Aires, Argentina…

Daniel: Bueno, cuéntame ¿cómo era tu papá?
Well, tell me, How was your father?

Victoria: Él era muy guapo y amable.
He was very handsome and friendly.

Daniel: Me imagino que lo querías mucho.
I imagine that he loved you very much.

Victoria: Sí, él siempre me cantaba canciones en la noche.
Yes, he always sang songs to me in the evening.

Daniel: ¿Te leía historias también?
Did he read stories to you also?

Victoria: No mucho le gustaba leer, pero sí cantar.
He did not like to read much, but (he liked to) sing.

Daniel: Tenía buena voz entonces.
He had a good voice then,

Victoria: Sí, y también jugaba vólibol conmigo.
Yes, and he also played volleyball with me.

Daniel: ¿Le gustaban los deportes?
Did he like sports?

Victoria: Sí, jugaba todo tipo de deportes.
Yes, he played all types of sports.

Daniel: Aquí dice que era un gran deportista.
Here it says that he was a great sportsman.

Victoria: ¡Era un gran padre!
He wasa great father!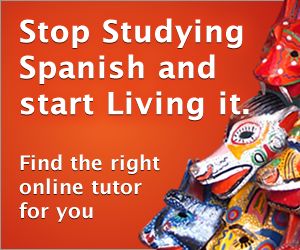 ---