---
Dialogues with Transcript - Intermediate
Dialogues - Intermediate - Mid Level Next Lesson

Miranda: Buenas tardes, ¿en qué puedo servirle?
Good afternoon, how may I help you?

Estefano: Busco un par de zapatos de tenis.
I'm looking for a pair of tennis shoes.

Miranda: Pues aquí tenemos de todo, ¿qué número usa?
Well, we have everything here, what size do you use?

Estefano: El 39 por lo general.
Usually 39.

Miranda: Tenemos varios estilos y colores.
We have several styles and colors.

Estefano: Pues quiero zapatos de última moda.
I want the latest fashion shoes.

Miranda: Cómo no, siéntese aquí por favor. Le voy a traer varios estilos para probar.
Of course, sit down here please. I'm going to bring several styles for you to try on.




  

Vocabulary Flashcards

Vocabulary Quiz

Photo Quiz

Spelling Quiz

Sentence Flashcards

Video

Example Sentences

Dialogue

Image-Sentence Match

Word Order Quiz

Multiple Choice Quiz

A or B Quiz

Fill In
Icon Legend
Icons are color coded by Spanish level:

Green = Beginner
Blue = Intermediate
Orange = Advanced
Black icons are unrelated to Spanish level:


Help

Download

Information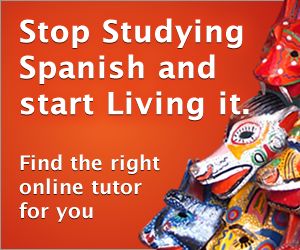 ---