---
Slow Spanish Dialogues - Present Subjunctive
Dialogues - Advanced - Low Level

Use the present subjunctive to express influence over actions that subject would or would not like somebody else to do, but cannot directly control.

Una pareja planeando su futuro frente al mar en una playa en Maui, Hawaii…

Kaleo: ¿Qué quieres que hagamos en unos cinco años?
What do you want us to do in five years?

Leilani: Quiero que estudiemos y terminemos nuestras carreras.
I want us to study and finish our degrees.

Kaleo: ¿Dónde quieres que vivamos?
Where do you want us to live?

Leilani: Pues, ojalá siempre vivamos cerca el uno del otro.
Well, I wish that we always live near each other.

Kaleo: Yo también. Ojalá salgamos juntos todos los días.
I also. I wish that we go out together every day.

Leilani: Y viajemos cada año.
And that we travel every year.

Kaleo: Y vayamos a bailar todos los viernes.
And that we go out to dance every Friday.

Leilani: Espero que siempre estemos juntos.
I hope that we are always together.

Kaleo: Pienso que sí…quiero que te cases conmigo.
I think yes...I want you to marry me.




  

Vocabulary Flashcards

Vocabulary Quiz

Photo Quiz

Spelling Quiz

Sentence Flashcards

Video

Example Sentences

Dialogue

Image-Sentence Match

Word Order Quiz

Multiple Choice Quiz

A or B Quiz

Fill In
Icon Legend
Icons are color coded by Spanish level:

Green = Beginner
Blue = Intermediate
Orange = Advanced
Black icons are unrelated to Spanish level:


Help

Download

Information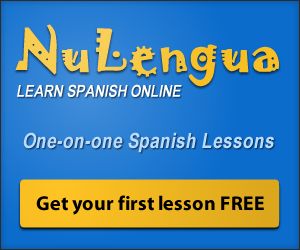 ---