---
Dialogues - Advanced
Dialogues - Advanced - Low Level Next Lesson

The verb expression hay que can be used to indicate obligation. When talking about the present we use the formula hay + que + infinitive

El Formulario

Randolfo: Señora, ¿cómo hay que rellenar este formulario?
Ma'am, how must this form be completed?

Ana: A ver. Es muy fácil. Primero aquí hay que poner su nombre y su apellido.
Let's see. It's really easy. First, here you must put your first name and your last name.

Randolfo: Eso sí, no es difícil, pero ¿dónde pongo mis iniciales?
That yeah, is not difficult, but where do I put my initials?

Ana: ¿Sus iniciales? Creo que no hay que ponerlas.
Your initials? I think that you do not have to put them.

Randolfo: Ah ¿sí?
Ah yes? (really?)

Ana: Después ha que indicar dónde usted nació y dónde vive ahora.
Next you have to indicate where you were born and where you live now.

Randolfo: ¿Tanta información?
So much information?

Ana: Sí, señor, hay que rellenar todo.
Yes, sir, you have to fill it all.

Randolfo: Entonces hay que poner cómo me llamo, dónde nací, dónde vivo y ¿dónde voy a morir?
So I have to put my name, where I was born, where I live, and where I'm going to die?

Ana: No, la última información no. Usted es bastante joven para indicar eso.
The last one, no. You are too young to indicate that.

Randolfo: Muchas gracias. ¿y cómo se llama usted? quisiera invitarla a tomar café conmigo.

Thank you. And what is your name? Maybe you can drink some coffee with me some time.




  

Vocabulary Flashcards

Vocabulary Quiz

Photo Quiz

Spelling Quiz

Sentence Flashcards

Video

Example Sentences

Dialogue

Image-Sentence Match

Word Order Quiz

Multiple Choice Quiz

A or B Quiz

Fill In
Icon Legend
Icons are color coded by Spanish level:

Green = Beginner
Blue = Intermediate
Orange = Advanced
Black icons are unrelated to Spanish level:


Help

Download

Information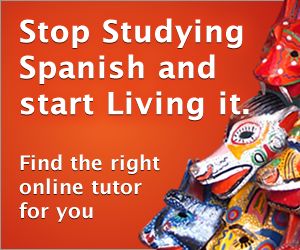 ---