---
Spanish Verb Conjugator - pronunciar

Spanish Verb:
pronunciar



English Translation:
to pronounce
Like our free content? Let us know!

Follow us on Twitter to receive our Verb of the Day! Follow @Twitter
Notes: pronunciar is a completely regular verb. Note:
yo
tú
él/ella/usted
nosotros/-as
vosotros/-as
ellos/ellas/ustedes
Indicative
Present
pronuncio
pronuncias
pronuncia
pronunciamos
pronunciáis
pronuncian
Present Perfect
he pronunciado
has pronunciado
ha pronunciado
hemos pronunciado
habéis pronunciado
han pronunciado
Imperfect
pronunciaba
pronunciabas
pronunciaba
pronunciábamos
pronunciabais
pronunciaban
Preterite
pronuncié
pronunciaste
pronunció
pronunciamos
pronunciasteis
pronunciaron
Past Perfect - Pluperfect
había pronunciado
habías pronunciado
había pronunciado
habíamos pronunciado
habíais pronunciado
habían pronunciado
Past Perfect Simple
hube pronunciado
hubiste pronunciado
hubo pronunciado
hubimos pronunciado
hubisteis pronunciado
hubieron pronunciado
Future
pronunciaré
pronunciarás
pronunciará
pronunciaremos
pronunciaréis
pronunciarán
Future Perfect
habré pronunciado
habrás pronunciado
habrá pronunciado
habremos pronunciado
habréis pronunciado
habran pronunciado
Conditional
pronunciaría
pronunciarías
pronunciaría
pronunciaríamos
pronunciaríais
pronunciarían
Conditional Perfect
habría pronunciado
habrías pronunciado
habría pronunciado
habríamos pronunciado
habríais pronunciado
habrían pronunciado
Subjunctive
Present
pronuncie
pronuncies
pronuncie
pronunciemos
pronunciéis
pronuncien
Present Perfect
haya pronunciado
hayas pronunciado
haya pronunciado
hayamos pronunciado
hayáis pronunciado
hayan pronunciado
Imperfect
pronunciara

OR

pronunciase
pronunciaras

OR

pronunciases
pronunciara

OR

pronunciase
pronunciáramos

OR

pronunciásemos
pronunciarais

OR

pronunciaseis
pronunciaran

OR

pronunciasen
Past Perfect - Pluperfect
hubiera pronunciado

OR

hubiese pronunciado
hubieras pronunciado

OR

hubieses pronunciado
hubiera pronunciado

OR

hubiese pronunciado
hubiéramos pronunciado

OR

hubiésemos pronunciado
hubierais pronunciado

OR

hubieseis pronunciado
hubieran pronunciado

OR

hubiesen pronunciado
Imperative
Affirmative Imperative
pronuncia!
pronuncie!
pronunciemos!
pronunciad!
pronuncien!
Negative Commands
no pronuncies!
no pronuncie!
no pronunciemos!
no pronunciéis!
no pronuncien!
Other Forms
Infinitive
pronunciar
Past Participle
pronunciado
Present Participle
pronunciando
Want to print this verb chart?
Click here

Translated sentences containing 'pronunciar'
¿Ha tenido problemas para pronunciar las palabras claramente?

Have you had difficulty in articulating words.
El profesor las pronuncia.
The teacher pronounces them.
Podemos aprender a pronunciar las palabras del inglés
We can learn to pronounce the English words.
[
more Spanish sentences with pronunciar
]
---
Use our Spanish Verb Conjugation Tool (and translator) to conjugate and translate over 10,000 spanish verbs.


---
Listed below are some of the commonly selected verbs. Click on the verb and you will see its full conjugation and translation.


Return to the
Spanish Verb Conjugation
index page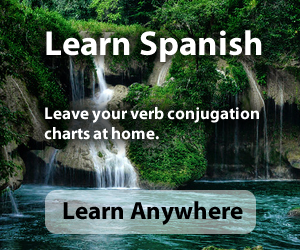 ---