---
Spanish Verb Conjugator - acusar

Spanish Verb:
acusar



English Translation:
to accuse
Like our free content? Let us know!

Follow us on Twitter to receive our Verb of the Day! Follow @Twitter
Notes: acusar is a completely regular verb. Note:
yo
tú
él/ella/usted
nosotros/-as
vosotros/-as
ellos/ellas/ustedes
Indicative
Present
acuso
acusas
acusa
acusamos
acusáis
acusan
Present Perfect
he acusado
has acusado
ha acusado
hemos acusado
habéis acusado
han acusado
Imperfect
acusaba
acusabas
acusaba
acusábamos
acusabais
acusaban
Preterite
acusé
acusaste
acusó
acusamos
acusasteis
acusaron
Past Perfect - Pluperfect
había acusado
habías acusado
había acusado
habíamos acusado
habíais acusado
habían acusado
Past Perfect Simple
hube acusado
hubiste acusado
hubo acusado
hubimos acusado
hubisteis acusado
hubieron acusado
Future
acusaré
acusarás
acusará
acusaremos
acusaréis
acusarán
Future Perfect
habré acusado
habrás acusado
habrá acusado
habremos acusado
habréis acusado
habran acusado
Conditional
acusaría
acusarías
acusaría
acusaríamos
acusaríais
acusarían
Conditional Perfect
habría acusado
habrías acusado
habría acusado
habríamos acusado
habríais acusado
habrían acusado
Subjunctive
Present
acuse
acuses
acuse
acusemos
acuséis
acusen
Present Perfect
haya acusado
hayas acusado
haya acusado
hayamos acusado
hayáis acusado
hayan acusado
Imperfect
acusara

OR

acusase
acusaras

OR

acusases
acusara

OR

acusase
acusáramos

OR

acusásemos
acusarais

OR

acusaseis
acusaran

OR

acusasen
Past Perfect - Pluperfect
hubiera acusado

OR

hubiese acusado
hubieras acusado

OR

hubieses acusado
hubiera acusado

OR

hubiese acusado
hubiéramos acusado

OR

hubiésemos acusado
hubierais acusado

OR

hubieseis acusado
hubieran acusado

OR

hubiesen acusado
Imperative
Affirmative Imperative
acusa!
acuse!
acusemos!
acusad!
acusen!
Negative Commands
no acuses!
no acuse!
no acusemos!
no acuséis!
no acusen!
Other Forms
Infinitive
acusar
Past Participle
acusado
Present Participle
acusando
Want to print this verb chart?
Click here

Translated sentences containing 'acusar'
Por la presente acuso recibo de su entrega.
I acknowledge receipt of your delivery.
La están acusando de haber robado las joyas.
They are accusing her of stealing the jewelry.
Por la presente acusamos recibo de su casa.
We acknowledge receipt of your letter.
Acusamos recibo de su envío.
We hereby confirm receipt of your shipment.
Han acusado al joven sin pruebas.
They have accused the young man without proof.
El pobre carpintero estaba callado mientras lo acusaban.
The humble carpenter was silent while they were accusing him.
[
more Spanish sentences with acusar
]
---
Use our Spanish Verb Conjugation Tool (and translator) to conjugate and translate over 10,000 spanish verbs.


---
Listed below are some of the commonly selected verbs. Click on the verb and you will see its full conjugation and translation.


Return to the
Spanish Verb Conjugation
index page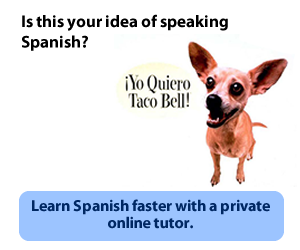 ---