Spanish Word of the Day: 2010-7-25

[ subscribe ]


antiarrugas
English Translation
: anti-wrinkle
Spanish Example: El estudio señala que las cremas cosméticas antiarrugas no son en la mayoría de los casos más que ilusión a precios muy elevados.

English Translation: The study indicates that cosmetic anti-wrinkle creams are in most cases nothing more than an illusion at very high prices.
---
Add the Spanish Word of the Day to your website!
To display this same word of the day on your webpage, simply copy and paste the code below in its entirety into the HTML of your webpage.

---
If you have a Google homepage, you can
add the Word of the Day gadget
, or you can
add it to any webpage
.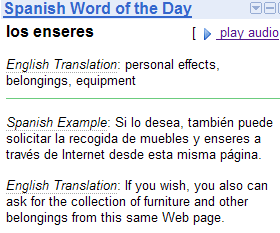 [
add to Google Homepage
] | [
add to webpage
]